Standard food offer
Main Menu
Clove 12 Dine In
Global Specials Menu
Ask Us for Happy Hours
Vegan Indo-Chinese umami-tasting soup is made with lots of garlic, ginger, and Chilli. Served with crispy fried noodles which add a nice texture to it. Add chicken /$8
Indo Chinese style soup made with mixed veggies, sweet corn kernels and peppers.
Mini sweet peppers stuffed with Indian spices and topped with Parmesan cheese.
AVACADO CHAAT (Veg &Vegan)
$10
The incredible blend of sweet, tangy and spicy sauces and Avocado. One of our must haves, unmistakable and irresistible.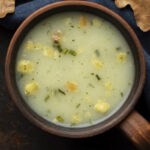 INDO-FUSION TACOS
$13/$15
Cauliflower / Chicken . Indian curry flavored tacos with your favorite filling drizzle with homemade salsas topped with India's favorite Amul cheese
VEG / CHICKEN DUMPLINGS
$13/$15
Steamed or sautéed Served with signature sesame sauce
Burrata With Makhni Sauce
$15
Creamy burrata with spicy makhni sauce served with our signature lacchha paratha.
Gujarati mixed vegetables dish that is a regional specialty of Surat gujarat which served with hot pooris and mouth watering dessert saffron shrikhand
Dry mutton preparation. Signature ingredients of the western coastal region of India which is heavy on spices like peppercorns and fennel and coconut.
Baked sponge Custard dessert with caramel sauce.
Our Choice
Veg APPETIZERS and Chaats
Roasted Masala Papad (2pcs)
$8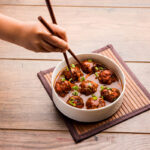 Vegetarian Indo Chinese Entrees
Veg Manchurian (Gravy or Dry)
$16
Gobi Manchurian (Gravy or Dry)
$16
Chili Paneer (Gravy or Dry)
$18
Veg Khaas Seekh Kebab
$18
Ajwaini tandoori panee
$18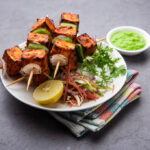 Our Choice
Non-VEG Specialities
Assorted Chicken Platter
$22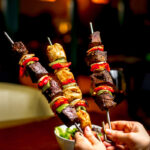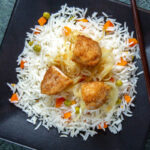 Chicken Schezwan Fried Rice
$18
Home Style Goat curry
$28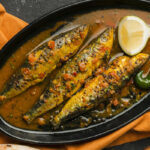 ( Tandoori Roti ,Butter Naan , Garlic naan, Onion kulcha)
Chicken cashew pakoda
$16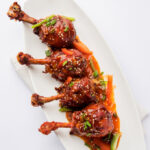 Raita (Cucumber tomato)
$3
(Onion, tomato , cucumber, lemon & chili )
( ask for flavors available)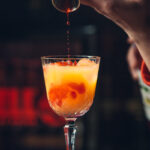 Charred Jala-Pina Maragrita
$15
These Pineapple Jalapeño Margaritas are tart, and slightly sweet with a jalapeño kick!
Vodka, peach schnapps, grapefruit juice for a fruity but tart drink
Old Fashioned Jim Beam
$15
A rich, smooth and silky taste for the macho-man
Blend of Vodka, Gin, Rum, Tequila, and Triple Sec for an orange cola burst
Combining the tang of lime and the sweetness of orange liqueur with the distinctive strength of tequila, the classic Margarita strikes all of the right keys
Dragon Fruit Margarita
$15
Classing margarita with a touch of dragonfruit to compliment the lime and orange liqueur.
A drinkable ice cube infused with an evergreen forest
Strawberry Cosmopolitan
$15
Refreshing and slightly tart strawberry is perfect for a ladies' night out or at a party
The epitome of the refreshing cocktail, stripped down to just the bare essentials of rum, lime juice, sugar, soda water, and mint
A ginger, mang drink that strikes an elusive balance between spicy, sweet and strong
A ginger and vodka drink that strikes an elusive balance between spicy, sweet and strong
A ginger and bombay sapphire gin drink that strikes an elusive balance between spicy, sweet and strong
Citrusy and bubbly blend of lemon and orange served over ice
The epitome of the refreshing cocktail, stripped down to just the bare essentials of lime juice, sugar, soda water, and mint without the alcohol
Sparkling, refreshing, and thirst quenching splash of strawberry
Perfect combination of rum, mint, and sweet mango nectar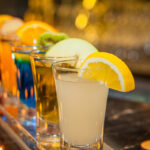 Ask for flavors available
Classic masala spices are enhanced with a hint of vanilla and butternut extracts to produce an intoxicatingly creamy beverage with a touch of sweetness
Captain Morgan Spiced
$10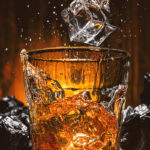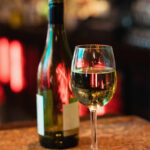 Sycamore lane cabernet
35
Red Wine
Reservations
BOOK A TABLE